The simplest way for Professional Exhibition participation RENT or BUY your tailor-made exhibition stand
Beurswand is your
bestprofessionalqualitativeflexibleadvising
partner for exhibition participation.
Welcome to Beurswand.nl Here you will find everything you need for a successful tradeshow participation. Whether you are looking for a modular exhibition booth, a pop-up exhibition wall, a mobile presentation wall, a partition wall or help in designing and building a trade fair stand, we are happy to help you. Beurswand has more than 15 years of experience with (international) stand construction and has provided a successful exhibition participation for many satisfied customers.
You are going to a trade show? Then there is a lot to take care of. Just an exhibition booth is not enough. At Beurswand we are happy to help you organize a successful fair participation.
"We have years of experience in the supervision of trade show participations of both large and small organisations. With our modular system you have maximum flexibility. Because you can buy or rent our trade fair stands we always have an affordable solution for your wishes and desires "
Are you looking for an affordable exhibition stand? Traditional stand building is often expensive, and last for limited time. You really want to have the opportunity to adapt your booth requirement to the available area and target group.
With our modular stand building system The M-series we are able to design and realise almost any trade show booth. The versatility of the system enables us to build efficiently and sustainably, saving you a huge amount of cost. We also call it 'Lego for adults' whether it is a corner stand, an in-between booth, a headstand or island position, large or small. The aluminium frames are available in various standard sizes and are easy to pair.
With the M-Series Door program, we can easily create a lockable pantry. Very handy to be able to store stuff out of sight.
For the finishing of the stand different materials can be used including textile prints and or sheet material.
Modular Exhibition stands
The modular exhibition Stand system (M-Series) from Beurswand is elected as the most innovative modular stand-building system. Why Choose modular self-build exhibition stands from Beurswand.nl?
Characteristic to our system is that it is modular and made of aluminium and therefore has a long life span. With a certain base set of frames you are able to build multiple stand configurations.
The flexibility is therefore enormous. If you are short of a certain trade show frames due to a larger stand area then you can rent or buy additionaly easily. The system grows with your organisation as it were.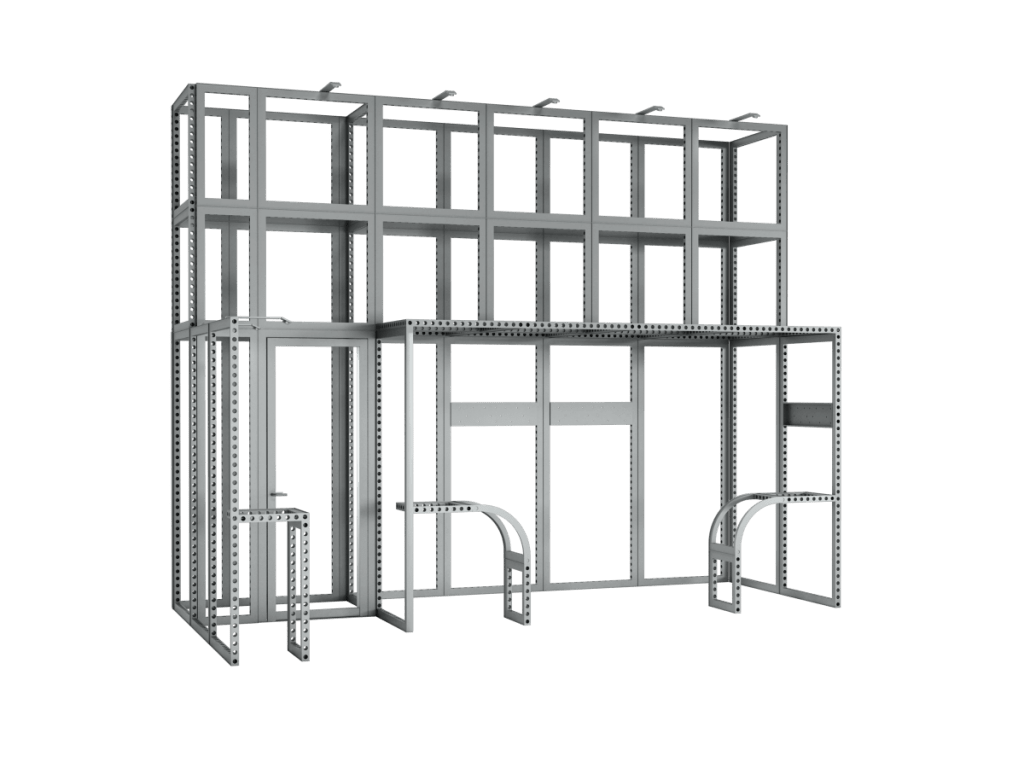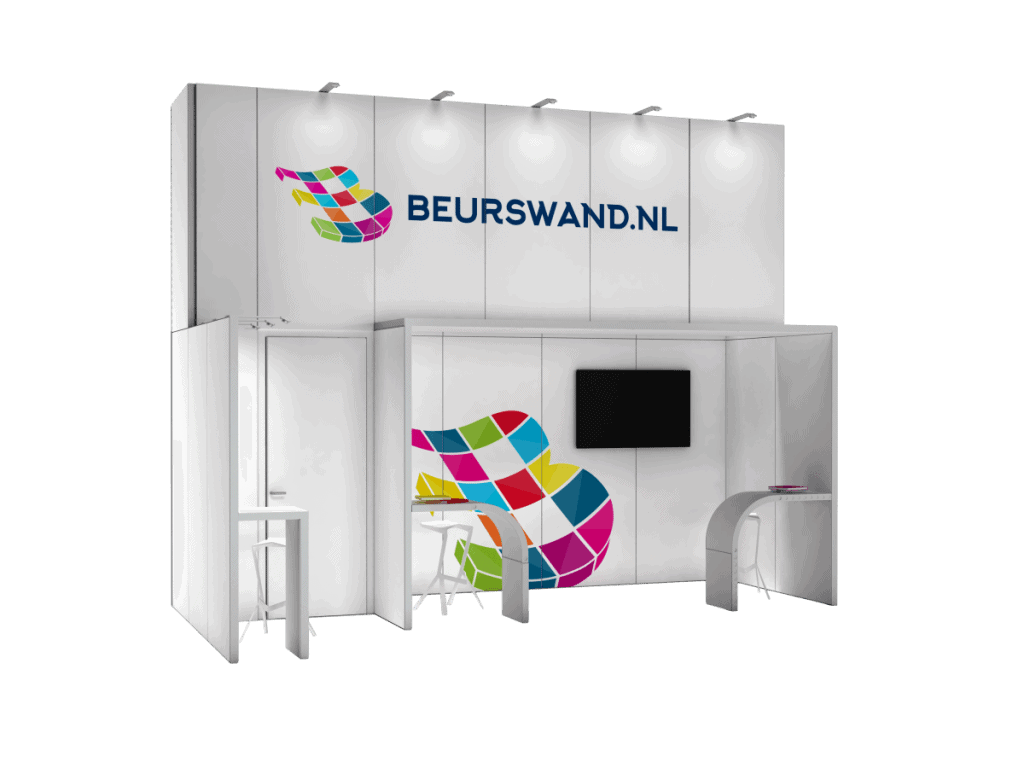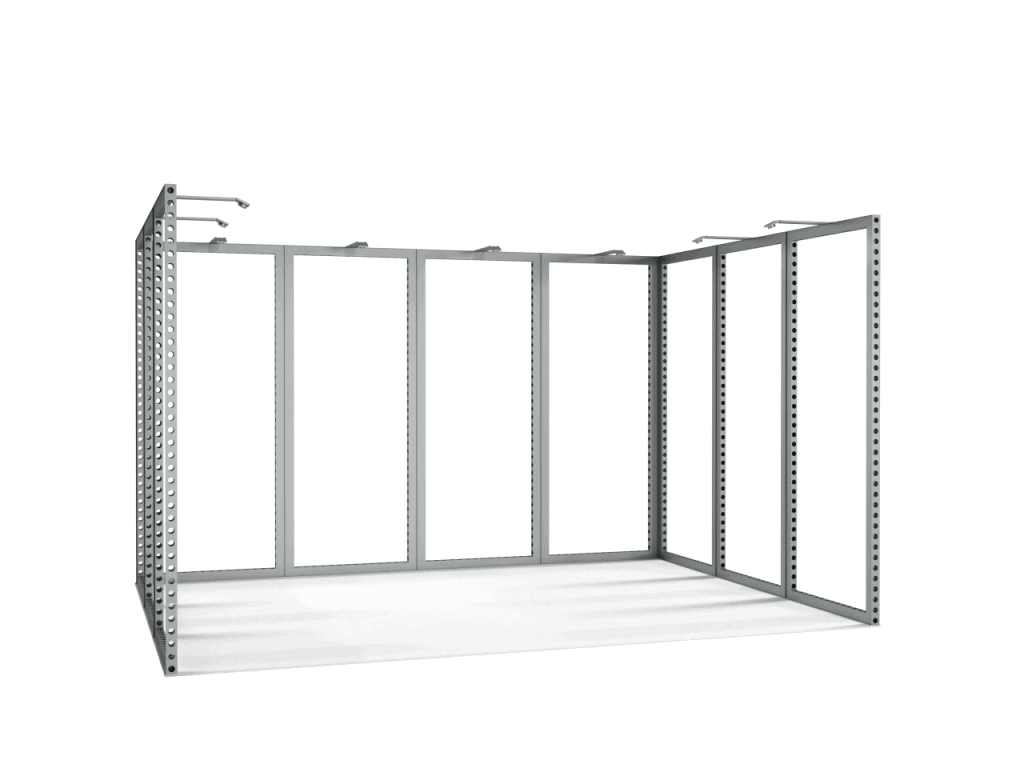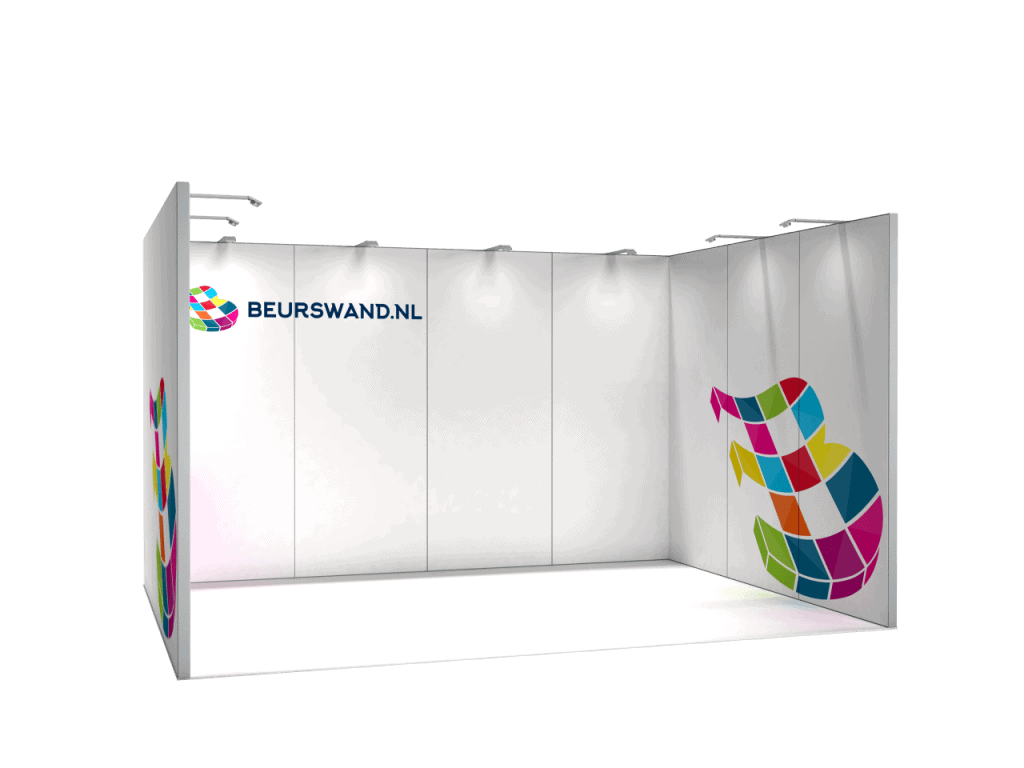 SHEET METAL AND TEXTILES
Finish with both sheet material and textiles with "tendon finish".
EXPANDABLE WITH ACCESSORIES
Almost all conceivable accessories are available with mobile stand construction.
SUSTAINABLE AND ECOLOGICAL
Environmentally friendly manufactured and durable in use.
AWARD WINNING SYSTEM
Elected as the most innovative modular stand-building system.
MANY BASIC FRAMES
By cleverly combining almost every standard size is achievable.
DOUBLE-SIDED FINISH
The M-Series system building can be finished differently on either side.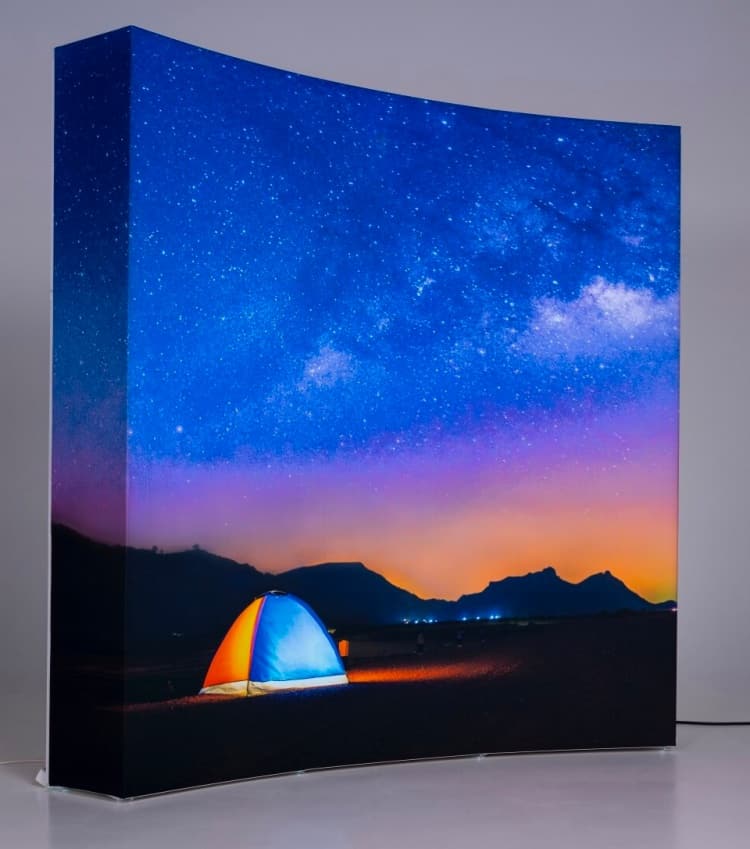 The Pop-Up exhibition wall
Are you looking for a mobile presentation solution? Then get acquainted with our new generation of pop-up exhibition walls. This vastly improved pop-up system is ideal when you have an event, congress and or trade show. The pop-up system is easy to set up and break down again. Moreover, the exhibition wall is easy to transport. The exhibition wall is packaged in a compact trolly bag.
The exhibition wall is finished with a tendon cloth (printed textiles). This also means that these pop-up walls are greatly improved compared to the previous versions. By tightening the textile print tightly it creates a stunning result.
The pop-up stock exchange walls are also available with LED. The pop-up exhibition wall is available in various sizes and is availableboth for purchase and for rent .
Combine pop-up exhibition walls
If your budget is not sufficient for a complete modular exhibition stand, you can easily create a trade show booth by linking multiple pop-up walls. This way you build a pop-up stand.
As you can see, beurswand.nl offers various solutions for your trade fair participation, congress or event. If you have any questions, please contact one of our account managers. They will gladly help you.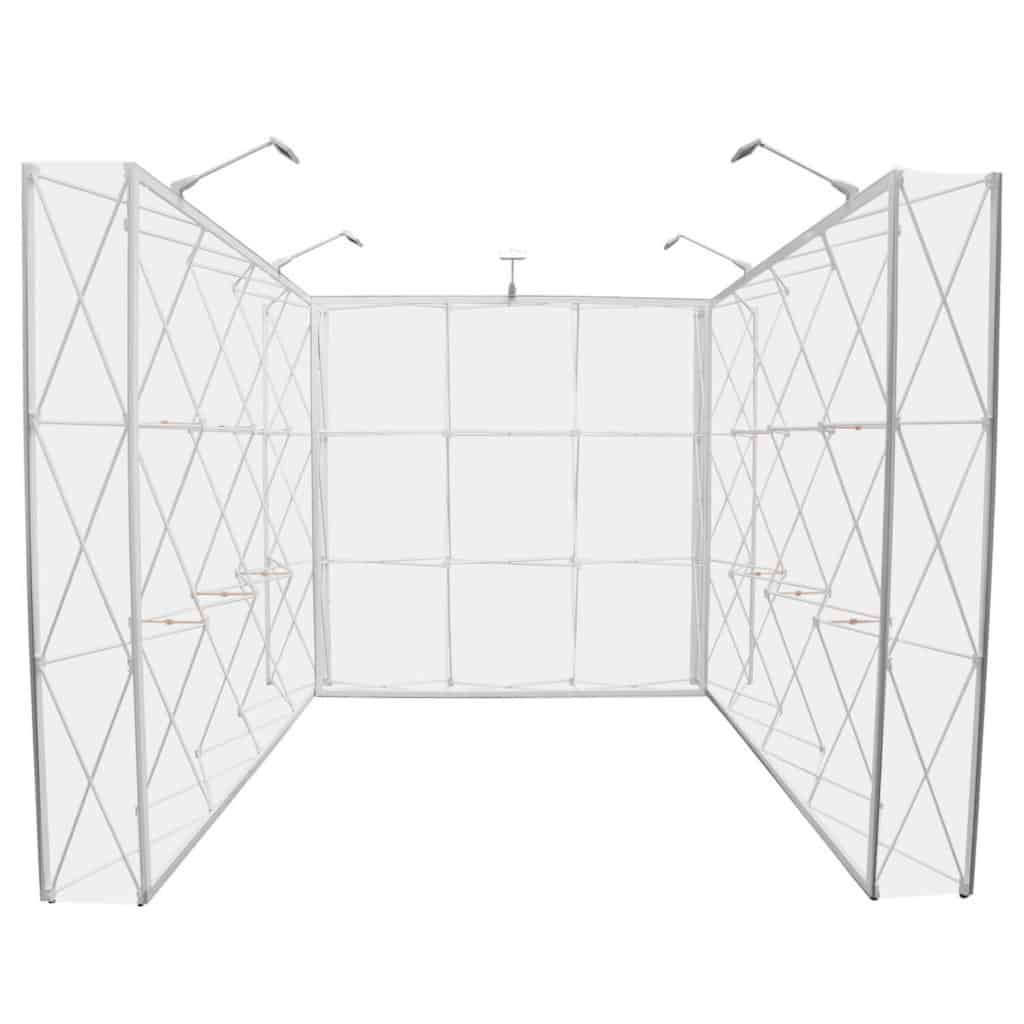 Let us also assist you with
Exhibition Participation AdviceProject ManagementRealization Exhibition Stand
Depending on your needs, you decide for yourself how much you want to be unburdened. The basis of our service concept actually consists of loose building blocks that ultimately determines the service level.
Whether it's the design, the project management, whether you want us to take care of the finishing and dismantling (including transport), you decide which service levelis right for you.
Exhibition Stand Realisation
We advise on fair participation.
We are happy to manage your project.
We are happy to realise your exhibition stand.
✅ Exhibition Stand Design
✅ Exhibition stand Design (Visuals)
✅ Tips and checklist for trade show participation
✅ Project Planning
✅ Supplier Management
✅ Logistics
✅ Transport
✅ Construction and Dismantling
✅ Exhibition Stand Storage
"Our Modulair
Full Service Concept is comprised of a number of building blocks, you decide which service level you want"
Buy an exhibition wall or rent a stand?
Buy exhibition Wall
✓ Lightweight
✓ Easy to transport in passenger car
✓ (De)assemble within 15 minutes by 1 person
✓ Semi Modular, multiple combinations possible
✓ LED Lighting options
✓ A solution for every budget
Exhibition Stand Rental
✓ 1 or Max 2 trade fairs per year
✓ Limited (marketing) budget
✓ Maximum Exposure
✓ Changing stand surface/configuration
✓ Optimal flexibility tailored to target group
✓ First time event participation
✓ Complete care based on full-service concept
Rent & Buy Combination
✓ More than 2 (international) events per year
✓ Long term investment and tax benefits
✓ Reduction of costs per event participation
✓ Use Internally (Showroom/Congresses)
✓ Exhibition stand grows with your organization
✓ Possibility of construction and dismantling